FLX380 FlexTester Micro OTDR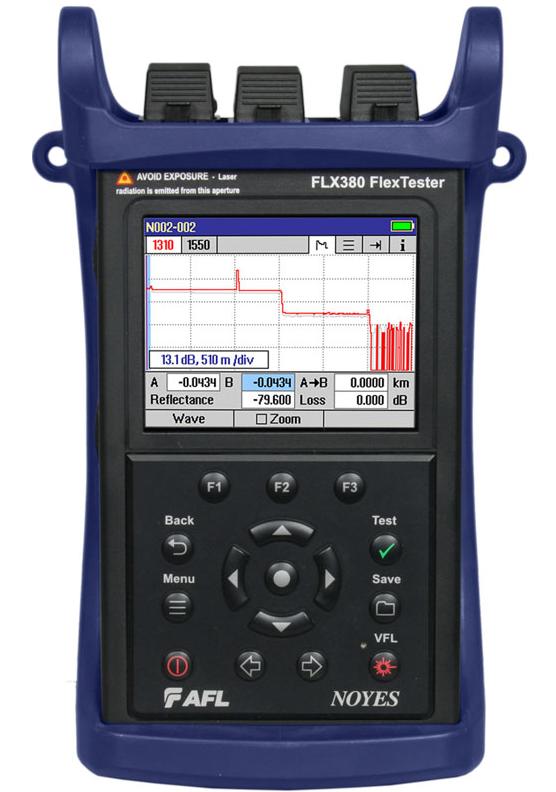 FLX380 FlexTester Micro OTDR
---
FLX380 FlexTester Micro OTDR
Features
3rd generation hand-held, all-in-one OTDR, Source, Power Meter, VFL
Icon-based LinkMapTM display with pass/fail for easy network analysis
Patented in- or out-of-service testing from a single port
42/42 dB dynamic range @1310/1550 nm; test up to 1x128 PON
Industry-leading 0.8/2.5/30 m event/attenuation/PON dead zones
ServiceSafe® live PON detection and OTDR test without service disruption
Integrated OLS/OPM with Wave ID reduces test time 80% and eliminates setup errors
Rugged, hand-held and lightweight (<1 kg)
High-contrast display: clear and bright, even in direct sunlight
Industry leading battery life: over 12 hours operation from a single charge
It's all about speed: with Instant On, you're ready to test in <5 sec
Applications
Certify new FTTx PON or point-to-point fibre installations, including splice, splitter and connector loss and reflectance, end-to-end length, loss and optical return loss (ORL).
Troubleshoot live FTTx PONs, including live PON detection and PON power measurements plus live PON OTDR testing at 1625 or 1650 nm.
Complete multi-wavelength end-to-end insertion loss tests faster and eliminate setup errors using AFL's Wave ID loss test feature.
Generate stable optical source signals (CW, Wave ID or fibre-identifying tones) using the integrated Optical Laser Source.
Trace fibres or locate fibre bends or breaks using the VFL (visible red laser).
Data Sheets
Please feel free to share or download any of the provided data sheets
Manufacturer:
AFL
Product Code:
FLX380
Product SKU:
53839000004806151
Product Description:
Optical Test Instrument, micro-OTDR
---