OPM4 Optical Power Meter with Wave ID and Set Reference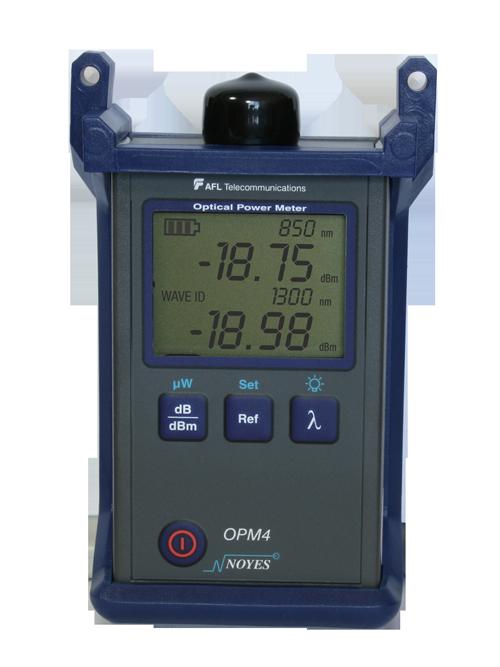 OPM4 Optical Power Meter with Wave ID and Set Reference
---
OPM4 Optical Power Meter with Wave ID and Set Reference
Features
Rugged, dependable, tools backed with 5-Year Warranty
Single-mode and multi-mode applications
Wave ID supports testing up to three wavelengths simultaneously
Field swappable connector adaptors provide flexibility
Large display visible in direct sunlight. Backlight for dim conditions
Stores optical reference at each calibrated wavelength
Detection of multiple test tones for fiber identification
Equipped with five-minute auto-off feature
Long battery life from globally available 2 x AA (Mignon) batteries
Fully N.I.S.T. traceable.
Applications
Passive Optical Networks (PON) testing
Save test data for Report Generation (OPM5)
OPM(5/4)-4D (Filtered-InGaAs) for high power (+26 dBm) CATV Broadband networks or DWDM system applications
OPM(5/4)-3D (InGaAs) for Telecommunications networks
OPM(5/4)-2D (Ge) for Premises LAN/WAN multimode or single-mode networks
OPM4-1D (Silicon) for multi-mode / plastic optical fibre applications
Data Sheets
Please feel free to share or download any of the provided data sheets
Manufacturer:
AFL
Product Code:
OPM4-
Product SKU:
53839000004812035
Product Description:
Optical Power Meter, OPM4 series
---