SFP-550C Polishing Machine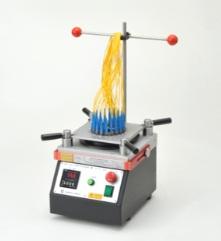 SFP-550C Polishing Machine
---
SFP-550C Polishing Machine
Features
'EZ-Maintenance' & High Duty Cycle
Special surface treatment is applied on turntable and support ring to extend parts service life.
Changed pressurising unit design for easier spring and knock pin replacement
Changed design of turntable and support ring to prevent water intrusion

These features improve mechanical durability and achieve reduction of maintenance cost in 1/10 compared to SFP-550B

High Speed

Reduced polishing time in 2/3 compared to SFP-550B
Increased production capacity 13% more

Compatible with existing SFP-550 holders
Exceeds requirements for GR-326 End Face Geometry
Uses the Seikoh Giken Patented rotation & revolution method.
I.P.C. holder technology yields the best results in the industry.
No variability in result when polishing 1 or 48 connectors.
Polishes up to 48 connectors w/ LC, 40 for MU, 32 for SC and 28 for ST.
Efficient and fast processes for all connector types..
Applications
Fibre optic connector polishing
Data Sheets
Please feel free to share or download any of the provided data sheets
Manufacturer:
Seikoh Giken
Product Code:
SFP-550C
Product SKU:
53839000000926401
Product Description:
Polishing Machine, independent pressure control, 16~40 axis, manual
---