2.5GHz RF Over Fibre For GPS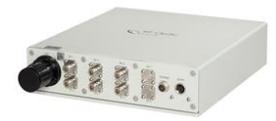 2.5GHz RF Over Fibre For GPS
---
2.5GHz RF Over Fibre For GPS
Features

Next generation RFoF modules with significant performances improvement.
Supports up to 2.5GHz for GPS.
Better linearity, excellent gain flatness, and TX, Rx and Link gain control.
Noise Figure down to 6 dB with LNA with
MDS ~168 dB/Hz for very low incoming signals.
Internal microcontroller allows RF and
Optical control, enabled by software.
End-to-end diagnostics reduces installation and maintenance time, enabled by software.
Gain variation S21 (fo) of ±1 dB for 90° C variation, utilising special algorithm.
Remote Management by GUI installed on PC.
Impedances of 50 Ohms and 75 Ohm.
Applications
GPS
Remote Antennas Communication
Satcom
4G LTE
Broadcast
Distributed Antenna
Radio Telescopes
Data Sheets
Please feel free to share or download any of the provided data sheets
Manufacturer:
RFOptic
Product Code:
RFOF-2.5G-GPS
Product SKU:
53839000006941065
Product Description:
RF Over Fibre System, transceiver, programmable, bias-T, 2.5GHz
---