Microsens Industrial Gbit Ethernet Switches
Microsens Industrial Gbit Ethernet Switches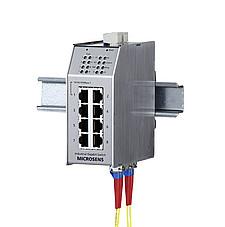 The 10 port Gigabit Switch is equipped with two 1000Base-SX/LX Gigabit Ethernet fiber optic interfaces and therefore allows the implementation of a fault tolerant optical ring. In case of failure the MICROSENS patented technology assures the reconfiguration of the connection within less than 20 ms.
The Industrial Switch is offering 8 copper ports for the connection of Ethernet terminals like control systems, consoles or further network users. The Gigabit Switch can be configured and monitored by the MICROSENS NMP Management Software, a PC based management tool and, optionaly, SNMP. The implementation of data prioritization (QoS) and VLANs according to IEEE Std. 802.1Q/p are forming a relevant part of the Industrial Switch.
Optionaly, the Gigabit switch is also available with a third Gigabit fibre port (1000Base-SX or LX optional as SFP version).
BBN International supplies Microsens, fibre optics, fiber optics, optical network, industrial, DIN, switch, Ethernet, gigabit, with ring redundancy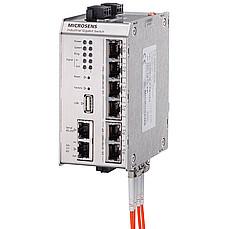 The new Profi Line + Switch offers seven Gigabit ports with extremely compact dimensions at an attractive price. Performance and security are top priorities for the new switch, both in network and access security, alongside the various switch functions themselves. This makes it eminently suited for high availability areas, such as industrial automation, traffic information and control systems, as well as energy technology. Applications like Wireless LAN and IP video surveillance profit from the integrated power supply of end devices with PoE+ according to the IEEE 803.3at standard with up to 30 W per port, which the Switch provides on four 10/100/1000Base-T connections.
The switch has two GBE combo ports with 10/100/1000T or 100/1000X SFP slot. These allow a redundant uplink either constructed with copper cables or fiber optic lines. In the event of a line break, the ring protocol ensures continuing availability. The switch itself can be supplied via the RJ-45 uplink port as a powered device with Power-over-Ethernet thus ensuring enhanced Switch availability if the conventional power supply fails.
Sensors and actuators can be integrated via the switch's two I/O ports or the switch can be connected to an existing alarm solution. The switch operating system, firmware and configuration data are saved on an SD card. If a switch needs to be replaced at any time, the new device automatically adopts the configuration saved on the card as soon as it is plugged in, reducing recovery times to a minimum.
BBN International supplies Microsens, fibre optics, fiber optics, optical network, industrial, Profi Line, DIN, switch, Ethernet, gigabit, 7 port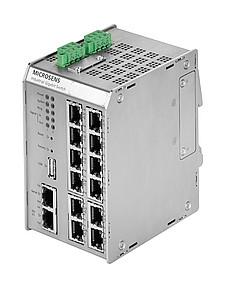 The new Profi Line Modular switches from MICROSENS offer top performance and flexibility in confined spaces.
The modular design of the Profi Line Modular switches enables expansions tailored to needs, which limits the initial investment to the minimum necessary.
Even the base switch module offers thirteen gigabit ports, of which four, as combo ports, can be expanded to fiber optic connections. Despite its space-saving design, it has two alarm inputs/outputs, for example for cabinet monitoring or integrating a sensor/actuator. The copper ports offer PoE/PoE+ with which the terminal devices connected can be supplied with electricity economically and without additional cabling work. The switches themselves can also work without their own power supply, supplied via PoE/PoE+ as powered devices.
For maximum scalability, expansion modules with six or twelve Gigabit Ethernet ports are available that can simply be connected on the side to match demand. The expansion modules also have gigabit combo ports with which an impressive number of fiber optic connections can be achieved economically and in relation to usage.
BBN International supplies Microsens, fibre optics, fiber optics, optical network, industrial, DIN, switch, Ethernet, gigabit, modular