Microsens Micro switches
Microsens Micro switches

The MICROSENS Fiber to the Office concept with its intelligent combination of fiber and twisted-pair cabling offers a long term and therefore future proof investment into the building infrastructure.
Due to the tool less snap-in installation the mounting of the switch is done easily and fast. This most compact system on the market ensures furthermore the compatibility to the most common installation systems of the world.
The Fast Ethernet installation-switch has an integrated management agent which offers besides the monitoring of status information also comprehensive configuration possibilities. The main features are the extensive hardware configuration, the port based VLANs and the data prioritisation (CoS) according to the IEEE 802.3p and IEEE 802.3Q® standards.
The actual switch has full Power-over-Ethernet support on all ports. The Power-over-Ethernet controller according IEEE 802.3af is already integrated. The complete device is supplied with 48 V DC power. This supply can be done by a compact external power supply or a separate in-house DC power network.
BBN International supplies Microsens, fibre optics, fiber optics, network, switch, Ethernet, fast, 5 port, with PoE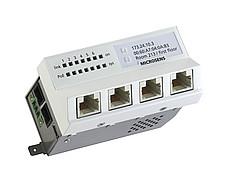 The 6 port GBE Micro Switch Generation 6 is a further milestone in the MICROSENS Fibre-To-The-Office (FTTO) concept. The use of latest technologies guarantees our customers a new and future-oriented, highly flexible platform. The Micro Switch Generation 6 constitutes an extension of the Gigabit Ethernet Micro Switch. In addition to the 1000Base-X fibre optic uplink, for linking to the central distributor, this switch has an additional RJ-45 downlink 10/100/1000Base-T. This additional connection is positioned at the rear of the switch and is also covered after the installation. It can, amongst other things, be used for cascading other Micro Switches in order to obtain additional connection capacities. This interconnection offers to increase the reliability of the network. If one fibre connection is interrupted the neighbouring switch handles the data traffic via RSTP.BBN International supplies Microsens 6 port gigabit Ethernet network micro switch