Microsens Standalone Power Supplies
Microsens Standalone Power Supplies

The use of a central 48/54 VDC power supply compared to decentred separate power supplies has many advantages. First of all it is more economical. Due to the exact dimensioning and scaling these systems are more energy efficient and distinguish themselves by a very low power consumption. It is also very easy to implement redundancy with the central solutions and to use a battery back up (UPS). MICROSENS offers a very compact solution with a high power density which requires a minimum of space only.
BBN International supplies Microsens, fibre optics, fiber optics, network, power supply, 48VDC, 54VDC, centralised For the use in medical applications MICROSENS offers a new power supply with Power-over-Ethernet functionality according IEEE802.3af. With its extreme small dimensions the power supply can provide up to 65 W at 48 V DC. The high efficiency minimises the dissipation loss and additional the device has an excellent over voltage and overload protection. The new power supply is a compact solution to be installed into cable trunks, sub-floor systems or wall boxes. As an accessory there are different mounting kits available. BBN International supplies Microsens, fibre optics, fiber optics, network, micro, power supply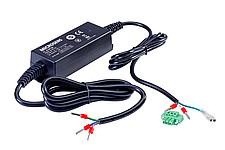 In order to use MICROSENS components with Power-over-Ethernet plus operation according to IEEE 802.3at, the user must apply a universal compact power supply unit for placing into cable trunks, sub-floor systems, respectively wall mounting housings.
Having extremely compact dimensions, this 54 VDC power supply unit has a power of 65 W. The power loss is minimized by the high efficiency factor of about 90%. The power unit is also equipped with an effective voltage surge protection as well as overload protection.
The power-supply MS700710 has conducted grounding, fixed wires at input and output.
For the use in medical environments there are power supplies with approval according to EN60601-1 standard available.
BBN International supplies Microsens, fibre optics, fiber optics, power supply, poe, optical network