Gold Standard SC Connectors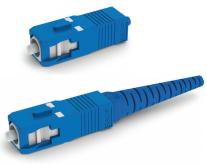 Gold Standard SC Connectors
---
Gold Standard SC Connectors
Features
Low Loss Performance:

I.L.=0.2dB for SM,=0.3dB for MM
R.L.>/=55dB for UPC, >/=65dB for APC

Equivalent to JIS C 5973 F04 Type SC Connector.
Compliant to IEC 61754-4 Type SC Connector.
Tested to Telcordia GR-326-CORE Issue 4 reliability standards.
RoHS / REACH / UL-94 V-0 Flammability Rated.
Available in single mode and multi-mode Ferrule formats.
Accommodates both simplex and duplex cable formats.
Applications
High performance data centre connections
Data Sheets
Please feel free to share or download any of the provided data sheets
Manufacturer:
Seikoh Giken
Product Code:
SSC-PE1G SSC-PNE1G SSC-PBE1G SSC-PE2G SSC-PNE2G SSC-PBE2G SSC-PE3G SSC-PNE3G SSC-PBE3G
Product SKU:
53839000004799003
Product Description:
Optical Connector, GS series, SC
---